0.3.0 Release: Missiles, AI Jets, New Name
---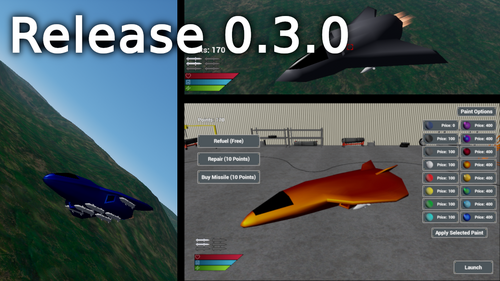 Update time! This one includes some major changes that have elevated the project out of "Prototype" status to "In Development". I can't guarantee we'll see Version 1.0, but at least it's starting to look like a proper game.
First, it has an actual name now. Instead of "Flying Game Prototype", it's now "Forsaken Airspace". This isn't merely an arbitrary name: It provides a bit of a clue about the game's planned story and overall tone.

Now for the new features. The major ones are:
Missiles. They lock onto enemies, and have to be replenished in your air base's workshop.
AI-controlled enemy jets. They're fast, they have missiles, and they want you dead.
A paint options menu in the workshop, where you can spend your hard-earned points.
Full 0.3.0 changelog:

- Optimized projectiles.
- Slightly increased projectile fire energy cost.
- Made flight physics framerate-independent.
- Tweaked flight physics: More inertia, reworked aerodynamic drag.
- Increased gravity.
- Jet emits smoke when heavily damaged.
- Fixed HUD target sizes for turrets and air bases.
- Added missiles, which can be replenished at the workshop.
- Fixed ambient lighting (didn't work due to negative shadow brightness).
- Fixed fuel depletion while in workshop.
- Increased turret respawn time to 2 minutes (was 45 seconds).
- Added paint options menu to workshop.
- Added outline to point count in workshop menu.
- Renamed game from "Flight Physics Prototype" to "Forsaken Airspace".
- Improved projectile landscape collision.
- Added a metal-style combat music track.
- Added an enemy air base, which spawns AI-controlled hostile jets.
- Increased steering responsiveness and extended option slider's range.
- Instead of causing death, target balloons can be popped by flying into them.
- Increased projectile speed and size.
- Darkened HUD bars.
- Bound X key to primary weapon as an alternate firing input.
- Added more turrets and reduced clustering.
- Rebalanced health and damage.
- Player jet mesh: Sharpened edges, tweaked contours, optimized collision.
- Added low fuel warning to the HUD.
Files
ForsakenAirspace_v0-3-0.zip
42 MB
Apr 06, 2020